The Garden of Love-Light Blossoms in Bilingual Editions
 With an international launch last August 2016 in New York and a Bengali launch having taken place in January 2016 at the World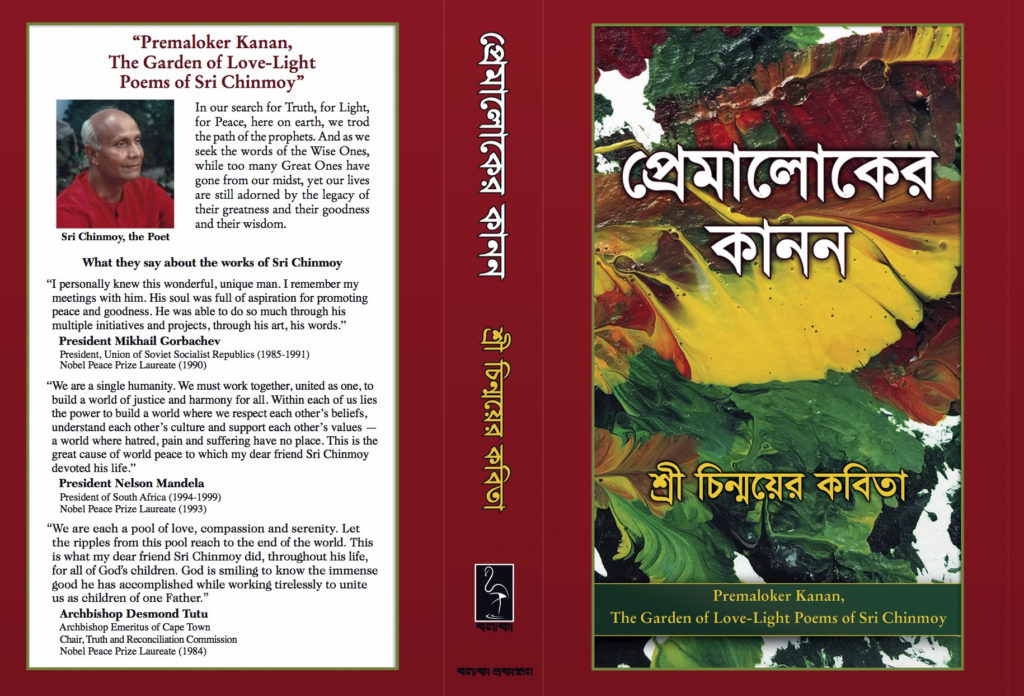 Literature Center (Bishwo Shahitto Kendra) in Dhaka, Sri Chinmoy's Premaloker Kanan, The Garden of Love-Light Poems of Sri Chinmoy is now finding full accessibility in the two languages in which it was written.
The 140 classic poems, written by Sri Chinmoy between 1948 and 1974, were first published in New York in the early 1970s as transliterated Bengali lyrics to songs composed by Sri Chinmoy, with the poet's own English translation included. The Bangladesh edition of earlier this year paired the English poem with the Bengali scripted poem, and the international edition to be released at the Sri Chinmoy Poetry Festival in New York will additionally include the Bengali transliteration into the Western alphabet.
Professor Karunamaya Goswami, who wrote an introduction to the book, observed, "It is wonderful to think that there is a garden, a garden of love, a garden of love-light. It is even more wonderful for me to think that in New York, a modern day mystic like Sri Chinmoy believed that the world still was a garden where human beings blossomed like flowers, and that cosmic love was still there to illuminate them with its amazing light."
Ranjana K. Ghose noted in her foreword, Premaloker Kanan, The Garden of Love-Light Poems of Sri Chinmoy is a work of immortal vintage poems. We find herein some of Sri Chinmoy's earliest poetry and yet the epiphanies within are dawning ever anew, within the self and within mankind."
University departments and libraries wishing to obtain a complimentary copy of the book may make a request through this website.
Professor Emeritus Anisuzzaman, who has received the Bangla Academy Award and the Ananada Purashkar for his work in the field of Bengali literature, presided over the programme at the World Literature Center launch and unveiled the book. He recited the following poem from Premaloker Kanan:
Not word, but work:
This sweet message awakens strength
In our heart.
Inside work remains hidden
The fragrance of flowers.
Let work be the language of our heart
And our proclamation.
Our only aim is progress,
Not victory and failure.