2022 Festival Highlights
The theme of this year's Sri Chinmoy Poetry Festival, held on August 22nd at Aspiration-Ground, was Transformation. The Festival commenced with a recording of Sri Chinmoy reciting a poem that he wrote in 1973 resonant with the evening's theme. Click above to listen as you read:

There was a time when I loved
The fantastic fabrics of the mind.
There was a time
When I lived my life
Based on culled fictions.
There was a time
When I was satisfied
With a fragment of reality,
Splintered, broken and smashed.
But now a lucid illumination
Steals into my heart.
The eternal Presence
Of Infinity's Light
Feeds my Vision's Dawn.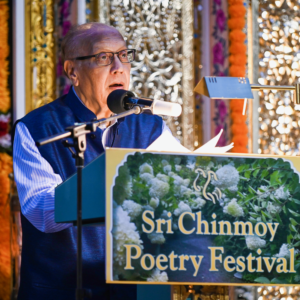 Keynote speaker Ambassador Anwarul Chowdhury, former United Nations Under-Secretary-General and Ambassador of Bangladesh to the United Nations, praised Sri Chinmoy's peace and literary efforts, and also read out five entirely new Bangla translations to English poems which Sri Chinmoy had written, and for which the Ambassador took literary responsibility.
Other items on the program included live performed music of Sri Chinmoy's compositions and a 10-minute writing exercise for everyone in the audience  on "kindness." All who attended received a souvenir booklet and pen inscribed with the name of the Sri Chinmoy Poetry Festival to use during the writing exercise.
Rintu Chakravarty also shared how he uses Sri Chinmoy's poetry for transformation in his own life and relating it very uniquely to the Indian raga.
Original poems were read by Chidananda Burke, Bhikshuni Weisbrot and Glenn Garamella.
It also include the premiere of a slideshow by Bhashwar Hart of Sri Chinmoy reciting and commenting about his poems at the Jharna-Kala Gallery in Grand Central Station in 1978.