Sri Chinmoy Poetry Festival
in a garden-like meditative setting
The Sri Chinmoy Poetry Festival, founded in 2009, is an annual event occurring in New York City and in additional venues throughout the year. It will be held on Monday, August 21, 2023 at 7:30pm. Its focus is the poetry of Sri Chinmoy and the genre of poetry, which he loved so well. The Festival's focus is the spiritual poetry of the great "student of peace", Sri Chinmoy. It encompasses a broad exploration of life through the arts, with music and art filling the air.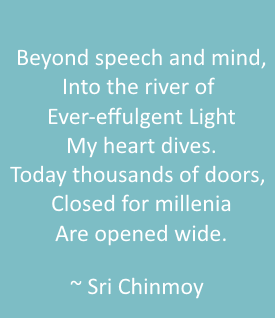 Praise for Sri Chinmoy's Poetry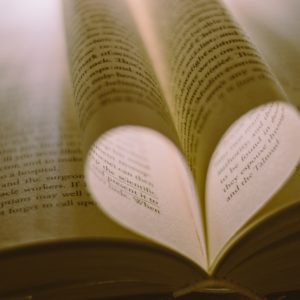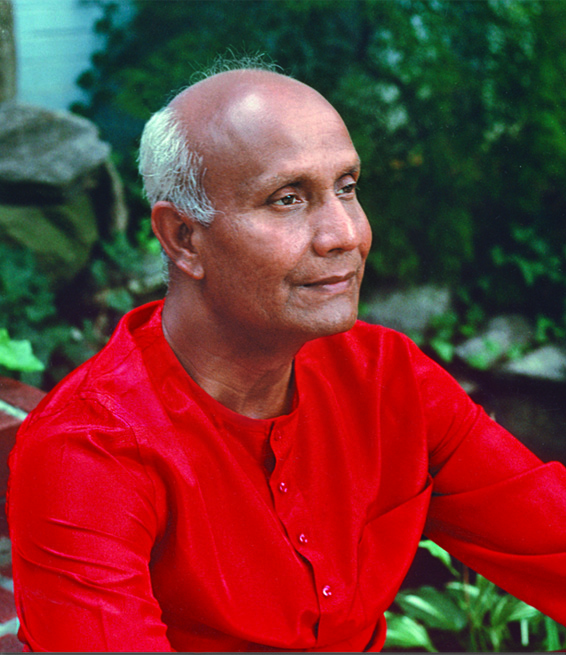 Seer Poet and Inspiration Behind the Poetry Festival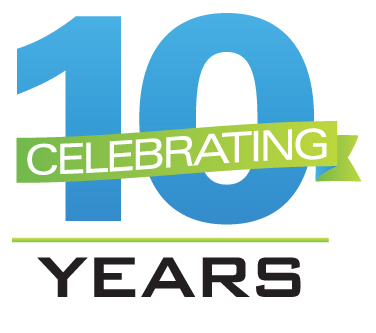 2019 Festival Highlights
The Sri Chinmoy Poetry Festival celebrated its 10th anniversary on Friday, August 23rd with poetry, music and more.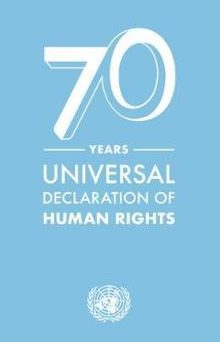 2018 Festival Dedicated to Universal Declaration of Human Rights
The Festival honored the 70th anniversary of the Universal Declaration of Human Rights through poetry, music and song. The Universal Declaration was spearheaded through the United Nations General Assembly by Eleanor Roosevelt 70 years ago in December 1948.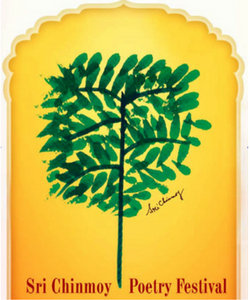 2017 Festival Highlights
The 2017 Festival featured a celebration of the 2nd edition of "Happiness, The Delight-Tree: An Anthology of Contemporary International Poetry."
View Some Scenes

From the Inspiring and Beautiful Evening.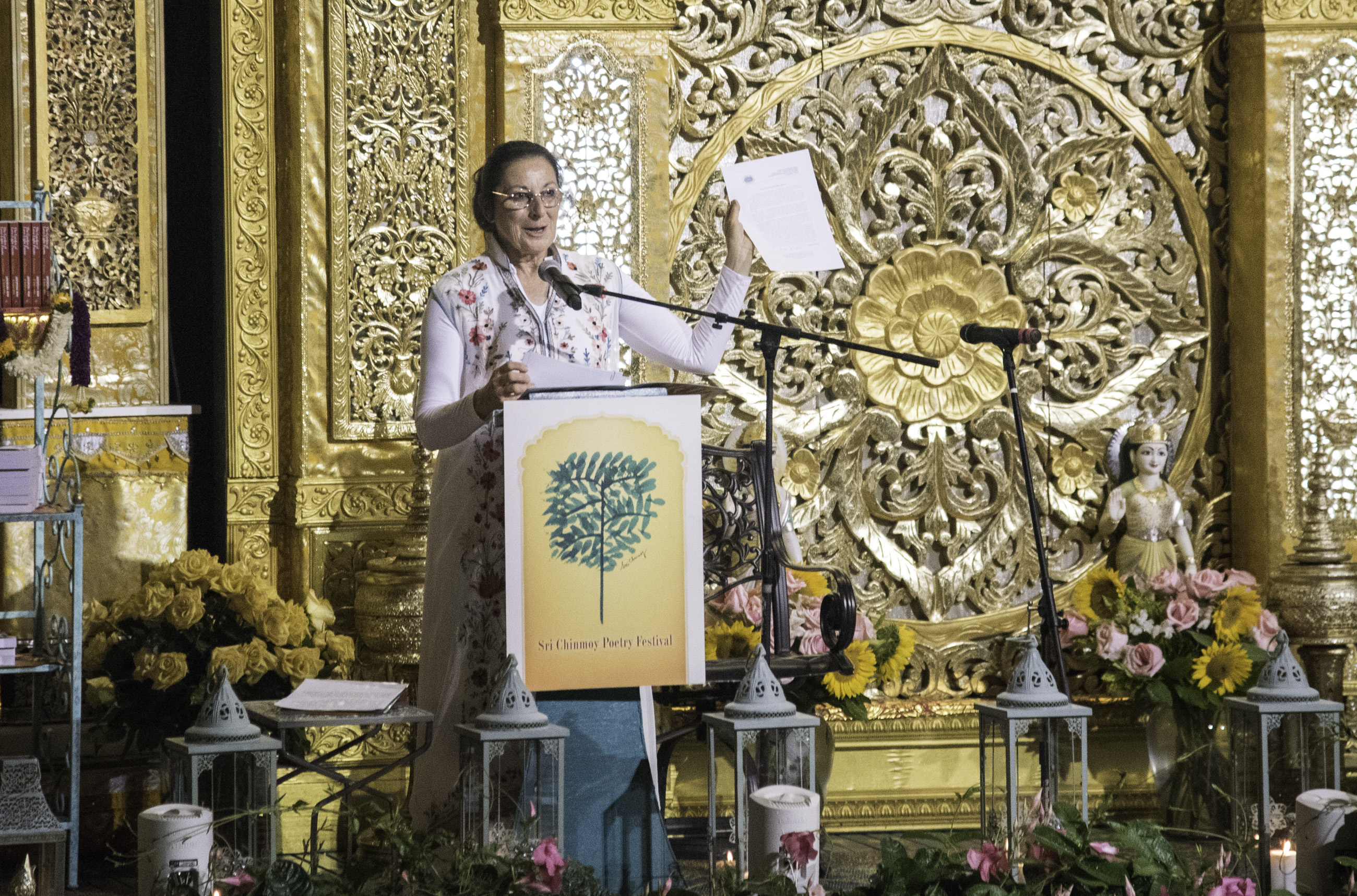 2016 Festival Highlights
The 2016 Festival was held in an idyllic outdoor setting last August with an international audience of over 700.
Presenters Included:
Ambassador Anwarul K. Chowdhury

Professor Neelima Shukla-Bhatt

Vocalist and Musician Debashree Bhattacharya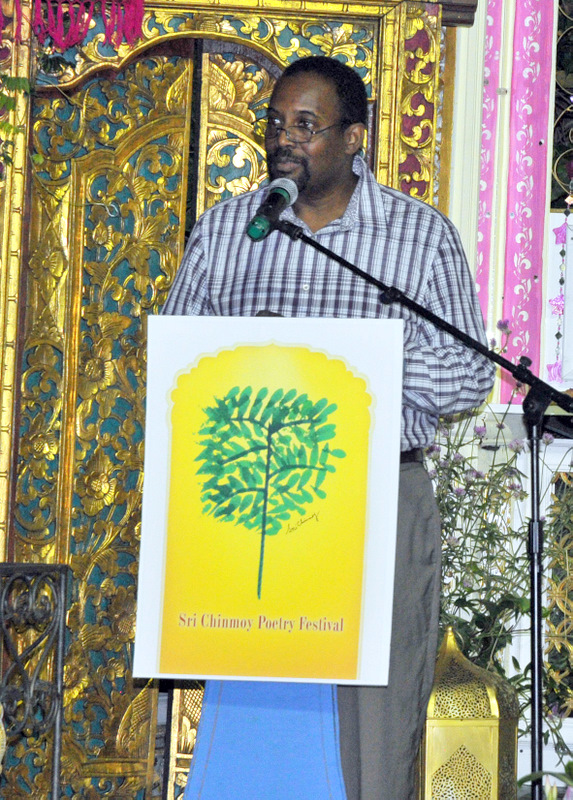 Reggie Harris - 2011 Festival Participant
Poet Reggie Harris of Poets House, a national poetry library and literary center located in New York City.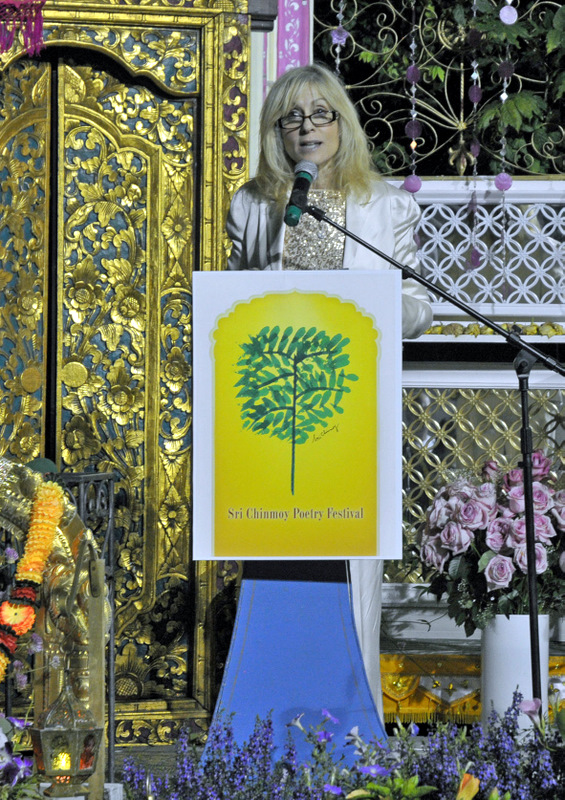 Madhurima Judith Light - 2011 Festival Participant
Actress and Broadway Performer

Inspired the Audience with a Reading from My Lord's Secrets Revealed

A Poetic Conversation between the Supreme Father and His sweet children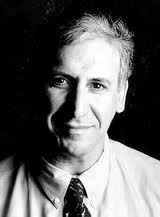 Ed Hirsch - 2010 Festival Keynote Speaker
Best-Selling Author and Poet

Extraordinary Communicator of all that Poetry Has to Offer

Former Chancellor of The Academy of American Poets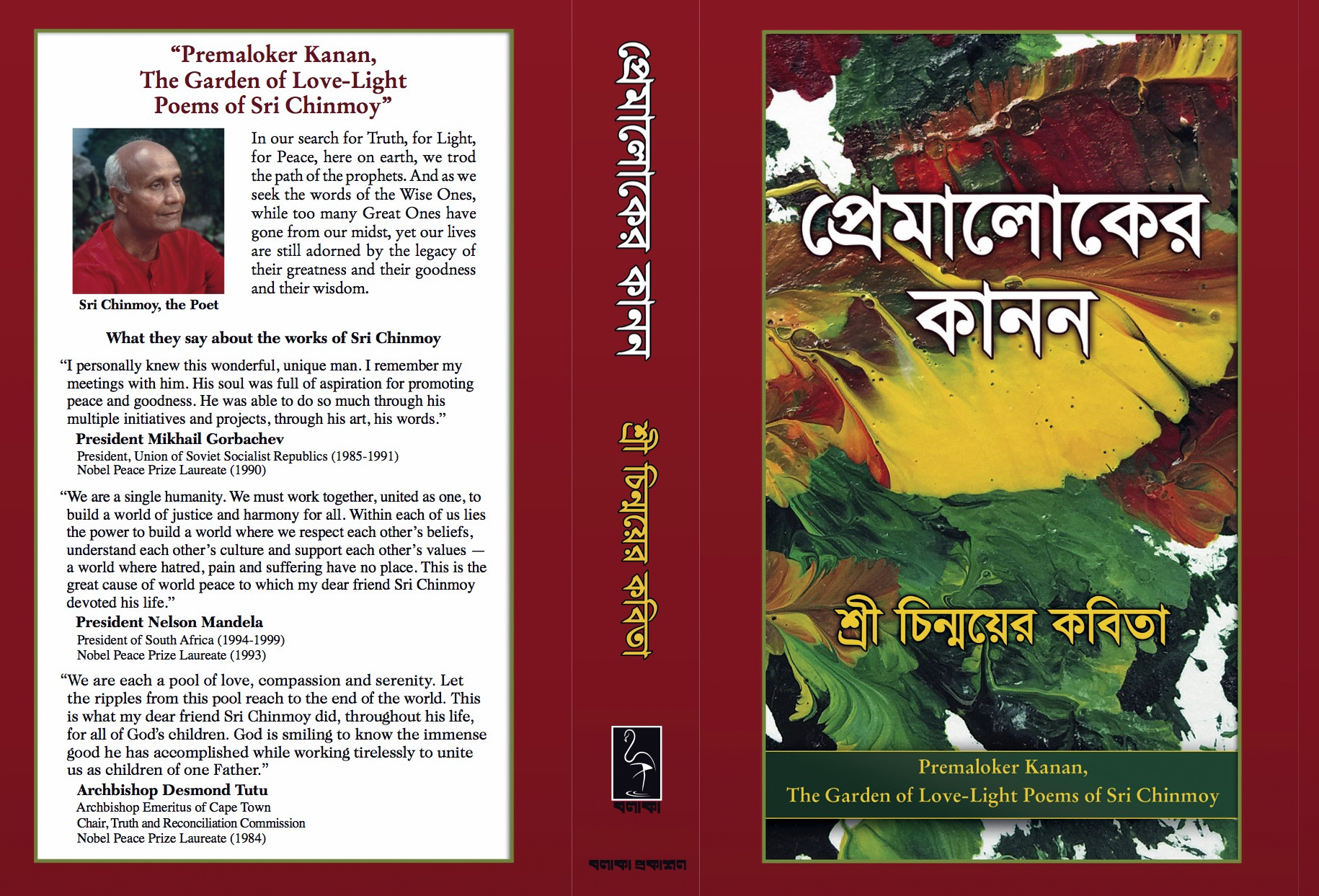 The Garden of Love Light Book in Bilingual Edition
140 classic poems written Sri Chinmoy between 1948 and 1974 now published in a bilingual edition of the two languages in which it was written.
Introduction by Professor Karunamaya Goswami, Principal of the Cambrian Center for International Studies in Bangladesh.
Treasured Poems by Sri Chinmoy
Favorites Selected by His Students from Across the Globe

Material things age and ache.
Spiritual things grow and glow.
And my God-hunger
Is a birthless and deathless thing.
Sri Chinmoy, Ten Thousand Flower-Flames, Part 1
Chosen by Nayana (New York, USA)
*** 
Peace, I feel, peace I give, bliss I become.
God has made my life-breath His Victory-Drum.
I sing and sail, I sail and sing.
God's Tears of Joy and Pride I bring.
Sri Chinmoy, A Heart of Peace
                    Chosen by Ashok (Goa, India)
***
I fly on the wings of morning
To see in Heaven God's Beauty.
I fly on the wings of noon
To see on earth God's Power.
I fly on the wings of evening
To feel in my heart God's Silence.
I fly on the wings of evening
To feel in my heart God's Silence.
I fly on the wings of night
To feel in my soul God's Bliss.
Sri Chinmoy, The Dance of Life, Part 3
                     Chosen by Karpani (Moscow, Russia)
***
Beyond speech and mind,
Into the river of ever-effulgent Light
My heart dives.
Today thousands of doors, closed for millennia,
Are opened wide.

Sri Chinmoy, Supreme, Teach Me How to Surrender
                      Chosen by Abhijatri, (Johannesburg, South Africa)
***
God will do it
Try your best;
Do your best.
Leave the rest
At God's Compassion-Feet.
Devotedly
He will, without fail,
Do and fulfil
What is left undone,
Unconditionally.
Do you know
Who God is?
He is your desire's Lord
And
Your aspiration's Slave.
Sri Chinmoy, The Golden Boat, part 16 Chosen by Brian (Seattle, Washington)
More Treasured Poems
In fire and water,
In dust and atoms,
Seeing You, Your Meditation-Trance,
Many poets have depicted
Your immortal Beauty.
They are my pioneers.
This morning I am weaving the garland
Of soulful words:
Victory, victory, victory
To the Guru Supreme of the Universe.
Repeating this incantation
We shall conquer the world-soul.
Sri Chinmoy, Supreme, Teach Me How to Cry
                     Chosen by Suchana (Buenos Aires, Argentina)
 ***
We are the Pilgrims of the Lord Supreme
On the Path of Infinity.
At this time we have broken asunder
Obstruction's door.
We have broken asunder the night
Of tenebrous darkness, inconscience
And the eternal, indomitable fear of death.
The Boat of the supernal Light's Dawn
Is beckoning us,
And the World-Pilot
Of the hallowed bond of Love Divine
Is beckoning us.
The Liberator's Hands are drawing us
To the Ocean of the great Unknown.
Having conquered the life-breath
Of the Land of Immortality,
And carrying aloft the Banner
Of the Lord Supreme,
We shall return:
We, the drops and flames
Of Transformation-Light.
 Sri Chinmoy, My Flute
                      Chosen by Ashcharjya (Paris, France)
***
 How will you know
If you are divine?
You will know
If you are divine
When you discover
That without your body's Himalayan achievements
The world can exist –
But not without your soul's
One little smile. 
Sri Chinmoy, I Need Only God
                    Chosen by Pradipana (Frankfurt, Germany)
***
A soulful heart
Has discovered a supreme truth:
To meditate on God
Is a privilege
And not a duty.
Sri Chinmoy, Ten Thousand Flower-Flames, Part 9
                      Chosen by Dule, (Zlin, Czech Republic)
More Treasured Poems
By whose touch the lily smiles
And opens its beauty-bud?
Whose beauty's moonlight
Do I see in the lily?
Who is the Eye of my eye?
Who is the Heart of my heart?
Alas, why do I not see Him,
His Face of transcendental Beauty,
Even in my dreams?
Sri Chinmoy, Supreme, Teach Me How to Cry
                     Chosen by Kamaneeya (Novi Sad, Serbia)
***
Hope
Thou art my Lord, my golden dream,
Thou art my life in death.
O bless me with Thy Hope Supreme,
Lord of the Eternal Breath!
Agelong the vision of Thy Sun
For darkness have I sought.
I know the evils I should shun
And quickly bring to nought.
The earth is deaf and blind, my Lord;
Its true goal it denies.
It hears no voice, no heavenly word
From those who seek the skies.
O yet I feel Thy kingly Grace
With my feeble mortality.
I shall win at last the Noonward Race,
Plunge in the Nectar-Sea.
Sri Chinmoy, My Flute
                     Chosen by Sevananda (San Juan, Puerto Rico and New York, USA)
****
An iota of gratitude
The seeker's offering
Of an iota of gratitude to God
Is as beautiful as a rose
Held by God in His own Hand.
Sri Chinmoy, The Caged Bird and the Uncaged Bird
                      Chosen by Devaki (Montreal, Canada)
***
Some of these poems were translated by Sri Chinmoy from his Bengali original. He also set some of these to music, as he did to many of his Bengali and English poems.