Launch of Bengali-English "The Garden of Love-Light Poems of
Sri Chinmoy"
Draws International Crowd of Over 700
Mystical poems coupled with their soul-stirring songs captivate the audience
An inspired, international audience of over 700 greeted the release of the bilingual Bengali-English edition of Sri Chinmoy's classic poetry collection The Garden of Love-Light at the annual Sri Chinmoy Poetry Festival, held on August 20, 2016 at Aspiration-Ground Meditation Garden in Jamaica Hills, NY. Main presenters included Ambassador Anwarul K. Chowdhury, Professor Neelima Shukla-Bhatt, and vocalist and musicians Debashree Bhattacharya, Premik Russell Tubbs and Parichayaka Hammerl.  The all-women London based group Temple-Song-Hearts performed a musical prelude.
The Festival and book launch were part of a two-week cultural offering celebrating the birth anniversary of Sri Chinmoy on August 27.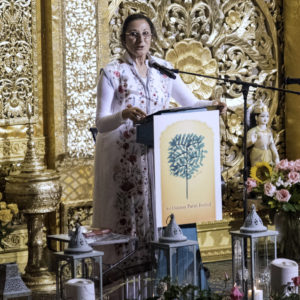 Sri Chinmoy Poetry Festival Director Ranjana K. Ghose noted that: "The Garden of Love-Light Poems of Sri Chinmoy is a work of immortal vintage poems. We find herein some of Sri Chinmoy's earliest poetry and yet the epiphanies within are dawning ever anew, within the self and within mankind." The book includes 140 of Sri Chinmoy's original Bengali poems captured in both Bengali script and Western transliteration, as well as Sri Chinmoy's own English translations. Ms. Ghose also read out a letter from President Mikhail Gorbachev on the occasion of the author's birth anniversary.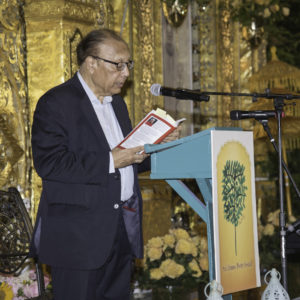 Ambassador Anwarul K. Chowdhury, in his opening remarks, offered insights about the author, and told the audience that "I am here, not as an Ambassador, not as a UN official, but as a person who has tremendous respect for Sri Chinmoy as a spiritual leader of the world. I was privileged to be always his 'Brother-Friend'. I am very happy that his spirituality, his work for peace, his humanism, his belief in the oneness of humanity has continued to inspire me in my work over many, many years." Ambassador Chowdhury read out several poems from The Garden of Love-Light, including "Jibaner bhore":
I sought You at the dawn of my life.
I achieve You in the evening of my life.
And now that the ferryboat of my heart
is in the Ocean of Light,
I have forgotten all my pangs.
This is no imagination of mine;
it is all reality.
Tranquil is my heart;
no clamour.
In this tiny life
The Cosmic Game of the Infinite Vast
I wanted to see.
I do not know how I have obtained
the Flute of Light
That is transforming my whole life.
–       Sri Chinmoy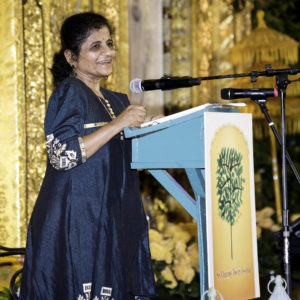 Professor Neelima Shukla-Bhatt, Director of South Asia Studies at Wellesley College, titled her presentation "Springs of Inspiration: Narasinha Mehta, Mahatma Gandhi, Sri Chinmoy." Professor Shukla-Bhatt related that when she was at Harvard doing her Ph.D research on expressions of devotion through poetry and song, and on cultural forms and resources that tie people together across boundaries, her professor suggested that she look at Sri Chinmoy's poetry and music websites. She did, and was delighted to be now at the Sri Chinmoy Poetry Festival, which would be filled with poetry and song. "It is often said that great minds think alike," commented Professor Bhatt. "But it is also found that great hearts through human history sing alike and what flows from them are messages of inspiration about love, about peacebuilding, about compassion and about restructuring, remaking this world, which is beautiful, but currently in trouble."
Sri Chinmoy set music to all 140 poems in The Garden of Love-Light , and singer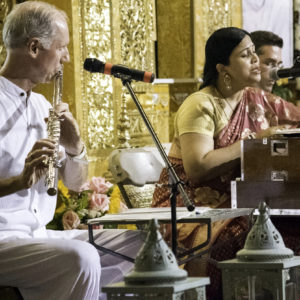 Debashree Bhattacharya and her accompanists fully expressed the essence of the song-poems which they performed, including the title song of the book, Premaloker kanane:
In the garden of Love-Light,
In silence-dream,
O Beauty Eternal!
This heart of mine is in Your embrace.
Poets and academics alike in the United States, Scotland, Austria, Bangladesh and India have praised the new publication. Festival Co-director Nayana Tara Hein read out several of these, including that received from Anisuzzaman, Professor Emeritus at the University of Dhaka: "…In diction, metaphor and metre [the verses] remind the reader of the tradition of Bengali mystic poems, yet the mark of Sri Chinmoy's individual thoughts and feelings is obvious. His message of humanity and love in this time of strife and stress will surely inspire the readers to walk the path of peace and friendship for all." Comments from around the world are included in the new edition.
The Sri Chinmoy Poetry Festival is an annual event, held in New York since 2009.
Libraries and university departments wishing to obtain a complimentary copy of The Garden of Love-Light Poems of Sri Chinmoy may contact 347-773-8369  or [email protected].