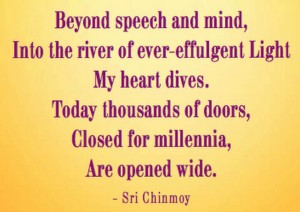 Fill out our Contact Form for more information about the Poetry Festivals.

The Sri Chinmoy Poetry Festival is a real festival — occurring every summer in New York since 2009. It is also a universally available festival, here on this site, which offers film clips of the Festival readings, commentary and musical performances.
The Sri Chinmoy Poetry Festival's central theme is an exploration of life through poetry and other arts. Presenters have included poets and educators Edward Hirsch and Janaka Alan Spence; actress Judith Light; Olympic great Carl Lewis; diplomat, essayist and Professor of Bengali Literature and Language, Momtazuddin Ahmed; and many more. It is presented under the auspices of the Jharna-Kala Art Foundation, Ranjana Ghose, Director, with Nayana Tara Hein serving as Festival organizer.
Sri Chinmoy (1931-2007) was a mystic poet, artist, composer and sportsman. He arose from the great tradition of Bengali poets, and wrote prolifically in both Bengali and English. Many of his more lyrical English poems are, in fact, his own translations of his Bengali poems to which he has set music. In rhymed and free verse, he breathtakingly captures the experiences of the spiritual seeker.
Please browse the Festival summary highlights below, view our film clips and use our contact form to tell us what you would like to see at Festivals and on this site, or to obtain further information.
2011-2012
In contrast to previous festivals, the 2011 and 2012 festivals were devoted entirely to Sri Chinmoy's poetry, in celebration of his 80th birth anniversary year.
They included the inaugural playing of selections from a new CD  The Goal Is Won: Sri Chinmoy Recites his Poetry (Aum Publications, New York, 2011).
Your days of orphan-sorrow
Are behind you
And
Not beside you.
Why, then, do you
Helplessly cry?

Your days of excellence-joys
Are ahead of you
And
Not beside you.
Why, then, do you not
Immediately run and declare:
THE GOAL IS WON."

- Sri Chinmoy, The Goal Is Won, poem 165,
Agni Press, New York, 1974
Fresh from Broadway, actress Madhurima Judith Light inspired the audience with readings from from Sri Chinmoy's My Lord's Secrets Revealed, a collection of poetic conversations between the Supreme Father and one of His sweet children.
Aye Aye Thant, President of the U Thant Institute, read poetry which Sri Chinmoy had dedicated to her father, the third United Nations Secretary-General, U Thant. She also shared recollections of the relationship between the two men, including how her father had encouraged Sri Chinmoy to conduct meditations at the United Nations for its delegates and staff.
Professor Harashita Sunaoshi offered a Japanese perspective.
Reggie Harris of Poets House described and invited the audience to Poets House, a national poetry library and literary center located in New York. He also read from Sri Chinmoy's work and movingly described how it had personally affected him.
Satyajit Saha, a remarkable recitationist and presenter of Sri Chinmoy's poetry and music, offered a striking poetic selection of four of the many voices Sri Chinmoy uses in his poetry. He and his troupe were introduced by Prof. Kusumita Petersen, who offered additional insights into Sri Chinmoy's poetry.
Dr. Saudamini Siegrist read from and commented upon Sri Chinmoy's Meditate On, and Sahadeva's musical group, just arrived from London, entertained and inspired the audience with several of Sri Chinmoy's songs, as did Temple-Song-Hearts from England and Dundubhi Dikeli and Shamita Achenbach-Konig from Austria.
Noted poet and anthologist Edward Field sent his greetings and a video of his poem "The Great Breath", which he especially filmed in honour of Sri Chinmoy's 80th birth anniversary. Mr. Field first met Sri Chinmoy shortly after Sri Chinmoy's arrival in New York in 1964 and recalled,
"I remember fondly meeting him when he first came to America many, many years ago. and then….he became world famous! He is still vivid in my mind — he was such a radiant youth."
Professor Franz Woehrer of the University of Vienna also sent special greetings via video to the Festival. He had invited papers on Sri Chinmoy's work for the 2009 conference he  organized in Vienna on "Interdisciplinary Approaches to Spirituality in the Literatures of the English-Speaking World"
2010

In 2010, we were grateful to have Edward Hirsch give a wonderfully rousing presentation on  "Seeking through Poetry".  A  poet himself, Ed  is  author, among other works, of the surprise best seller "How to Read a Poem and Fall in Love with Poetry". He is He is a Chancellor of the Academy of American Poets,  President of the John Simon Guggenheim Memorial Foundation, and an extraordinary communicator of all that poetry has to offer.
Welcoming remarks to the audience, as well as background on Sri Chinmoy's poetry and art, were made by Ms. Ranjana Ghose, Director of the Jharna-Kala Art Foundation, under whose auspices the festival occurs. Nayana Tara Hein served as master of ceremonies.
The Permanent Mission of Bangladesh to the United Nations paid tribute to their native son, Sri Chinmoy, in a presentation headed by its Cultural Minister, Mr. Momtazuddin Ahmed, a highly respected Bengali playwrite and poet. (Sri Chinmoy was born in Shakpura, British India, later to became part of Bangladesh. He was based in New York City since 1964.) Poets reading some of Sri Chinmoy's work in the original Bengali included Ms. Mumu Asnari and Mr. Kausar Mumin.
Other featured presenters included Mr. Ramu Damodaran, Deputy Director of Partnerships and Public Engagement of the United Nations Department of Public Information; Dr. Vidagdha Bennett, who completed her doctorate on the poetry of Sri Chinmoy at the University of Melbourne, Australia; and Ms. Anie Nunnally, author of The Golden Path.
Reading their own works were Ambassador Abdurrahman Shalgham, Nathalie Handal, Chidananda Burke, Saudamini Siegrist, Bhikshuni Weisbrot and Nilpushpi White.
Musical performances were offered by Silence and Sound; Santanu Bhowmick, Tapan Modak and their musical ensemble; Ms. Duradarshinee Lee; and Arthada's group.
As part of the Sri Chinmoy Poetry Festival, August 2010, an international team of individuals helped set a new Guinness World Record for translating a poem by Sri Chinmoy into the most number of languages (146).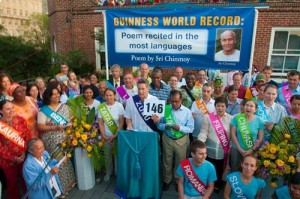 Those reciting the poem included Olympic legend Carl Lewis, Guinness top record holder Ashrita Furman, UN Ambassadors and Consul Generals as well as people from a wide variety of different countries.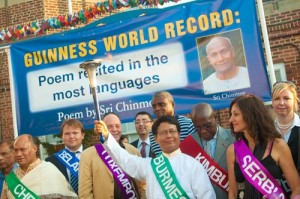 The poem was:
Be like a child,
Act like a child.
Go from one flower to another
In your heart-garden
Until you find complete joy
And perfect satisfaction."

- Sri Chinmoy
The poem was from the new book "Jewels of Happiness" written by Sri Chinmoy. The 146 languages ranged from Bengali and Maori to Newari and Zulu, "Be Like a Child" was expressed with some of the most unusual and charming communication sounds in the globe.
2009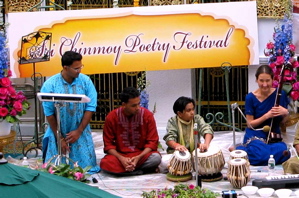 The first Sri Chinmoy Poetry Festival brought Sri Chinmoy's poetry to life before an international audience in an outdoor setting on Saturday afternoon, August 29th in Jamaica, Queens.
Readers included Sudhahota Carl Lewis, legendary Olympian of track and field, who read some poems Sri Chinmoy had written on running — in the "inner" world and in the "outer" world.
Professor Alan Spence, renowned Scottish author and artistic director of the international Aberdeen poetry WORD Festival, introduced Sri Chinmoy's poetry.
Dr. Kusumita Pedersen, Chair of Religious Studies at St. Francis College in New York, lectured on Sri Chinmoy's poetry, drawing upon on an article she presented about Sri Chinmoy's philosophy at a conference at the University of Vienna in July 2009.
Other presentations included readings from United Nations SRC Society of Writers and the Progress Forum.
Ms. Ranjana Ghose, Director of the Jharna-Kala Art Foundation under whose auspices the Festival takes place, welcomed the guests and led the the Sri Chinmoy Bhajan Singers in a musical and poetic performance of Sri Chinmoy's work.
From Bangladesh, Tapan Modak performed Sri Chinmoy's songs as well as Bengali creative artists Mithun Ahmad and Mumu Ansari. Additionally, performance artists and musicians from Australia, Austria, Bangladesh, Canada, France, Germany, Japan, Scotland, Switzerland, the United Kingdom and the United States.
A humorous dramatization of selections from Sri Chinmoy's "My Salutation to Japan" was performed by Kanan and Hashi Roberts and Gunarashi Ito, Harashita Sunaoshi and Tyagini Furukawa.